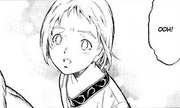 The Crown Prince of Parros and Rinda's twin. Although Remus comes off as less courageous than Rinda, it is also suggested in the novels that he is more realistic and more able to understand others. His caution is derived from observation of others. He apparently can "sense" his sister, and occasionally hear her thoughts (vol 1). Remus is bitter about not having the gift of farsight, although it's evident he will have other talents. He is a platinum blond with violet eyes. At the beginning of the story, he is 14.
Ad blocker interference detected!
Wikia is a free-to-use site that makes money from advertising. We have a modified experience for viewers using ad blockers

Wikia is not accessible if you've made further modifications. Remove the custom ad blocker rule(s) and the page will load as expected.